RAL 'Design' colour guides
RAL DESIGN (7-digit) colour references have been developed for advanced colour management - e.g. for designers, architects and advertising agencies.

The RAL Design system consists of 1625 colours and assists with colour harmonies and is referenced in terms of hue, lightness and chroma.

Free delivery (2-3 days) to UK mainland only.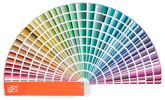 Click to enlarge
RAL Design D2 colour fan
Incl. colours:
Click hereFinish:
semi-matt.
Fan set in a long box containing all 1625 RAL Design colours (including 26 new pastel colours) in a semi-matt finish. Size 29 X 5 cm - 9 colours per sheet with each individual colour palette of 5 X 2.5 cms.

Perfect for comparing harmonised colours.
Price:
£132.99

 each incl.

Individual A6 RAL Design colour sheets
Size: 148 x 105mm - 5.83" x 4.13"
Finish: Semi-matt
---
---